Apopka Marine Open House 2018
Apopka Marine Open House 2016 Recap
February 20, 21 2016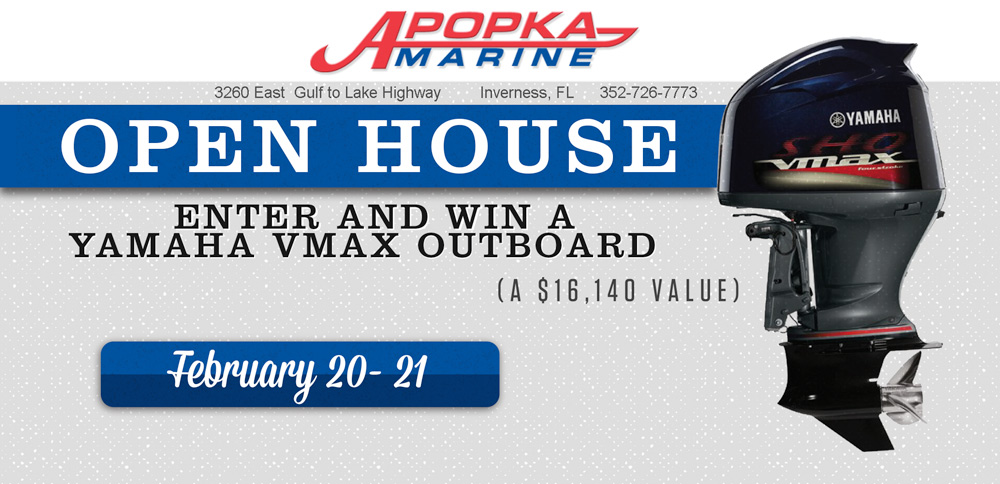 WHAT A DAY WE HAD!
To the island sounds of a steel drum band, hundreds of quests ate fish dinners and mingled among boats and gear on this wonderful Spring Florida Day.

Click here for more images of the event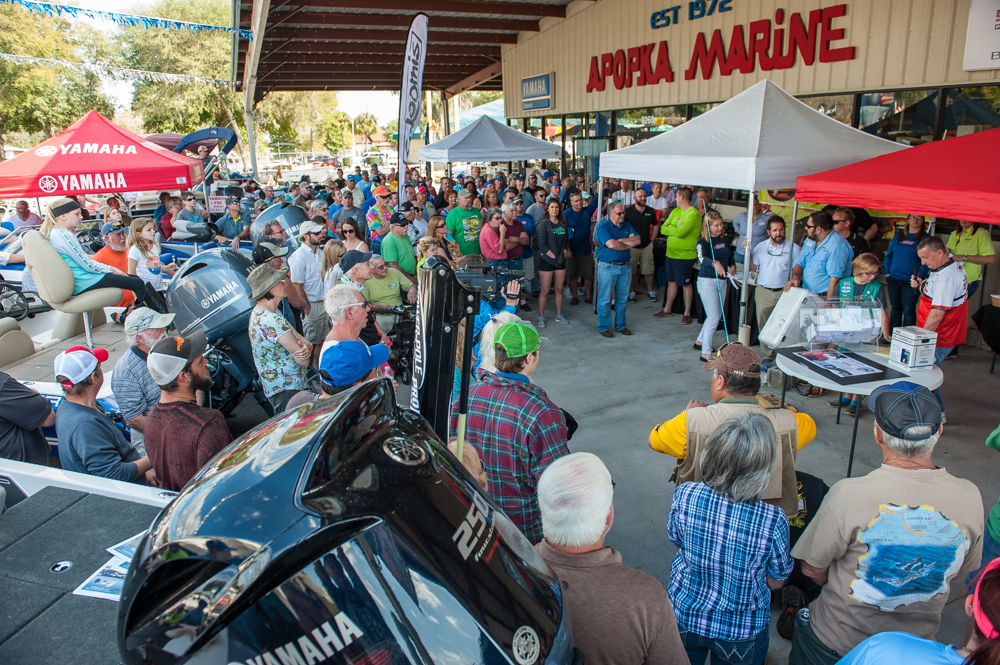 Registrants for the contest test drove Ford Vehicles to and from the lake. Then, tested boats on the water.
| | | |
| --- | --- | --- |
| Cards filled the drum | The drum mixed up | The winner pulled |
| | | |
And the winner is Keith Zell

Keith is joined by sponsors and celebrities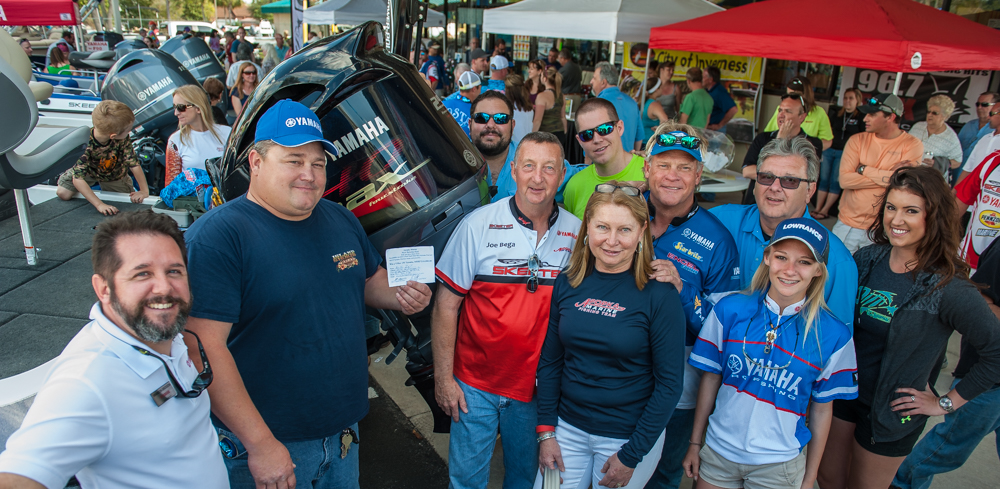 Kids Casting winner Colton Dodd with sponsors Blair Wiggins and Skeeter Chef Jimmy Ricks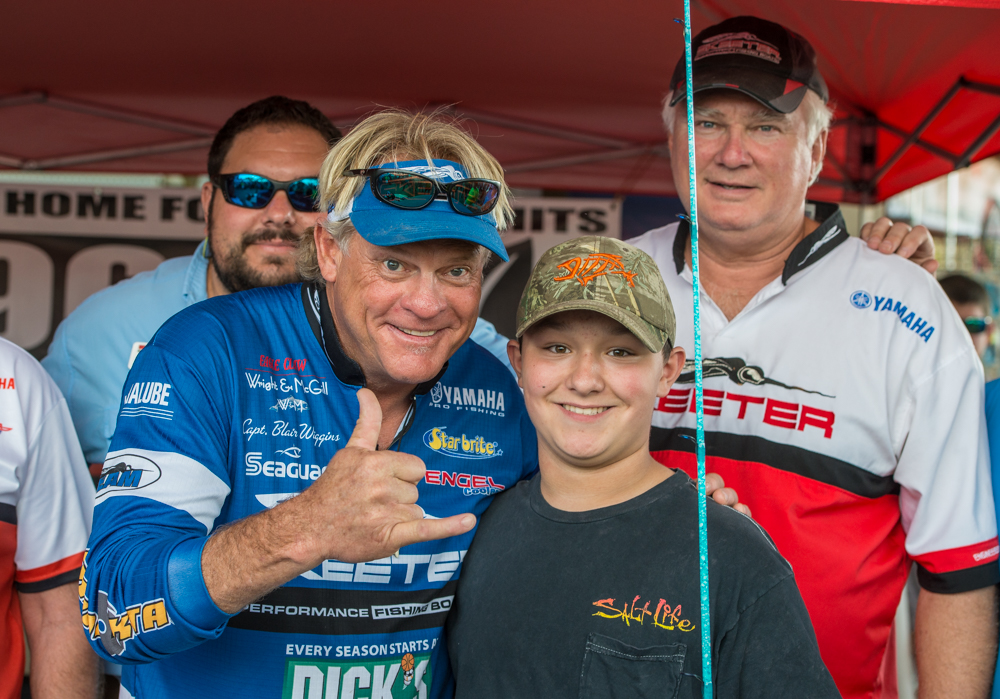 Here are a few more images of the day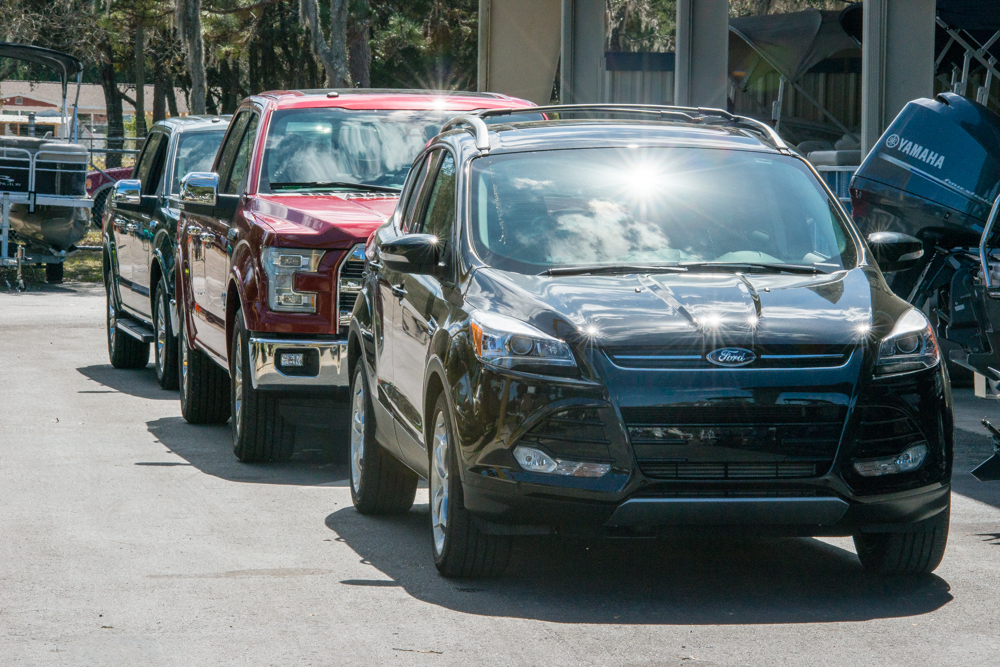 Click here for more images of the event
Special Thanks to all our friends and supporters that helped us in 2016.
G3 Boats
Robalo Boats
Skeeter Boats
Hummin Bird
Minnkota
Power Pole
Power Squadron
Sea Tow
Yamaha
Nick Nicholas Ford
Blair Wiggins
Bennington Marine
Shimano
Settin the Hook
City Of Inverness
Bill Pepito,
Insight Credit Union
Fox Radio
Jimmy Ricks (Skeeter Bites Cooking Team)
Capt Joe Herbert (Tackle Store)
Capt Chris Wilkins
Molly Maguire (Girl Scouts of America)
Snorkle with Manatees Tours
Big Dawg Baits
Take a look at the fun we had last year!
Apopka Marine Open House 2015 Recap
February 21, 22 2015
Christopher Kadyk is the kind of guy you love to see win.
Local Boater Christopher Kadyk flew his friend and North Dakoata hunting guide Joel Holweger in for some fun in the sun and walks away the winner of a $16,000 Yamaha VMAX Outboard. Kadyk needed a new motor for his boat and worked out all the details before the drawing. If anyone of his friends was to win, the motor was for his boat. So, when Holwager's name was called, Kadyk knew the motor was his.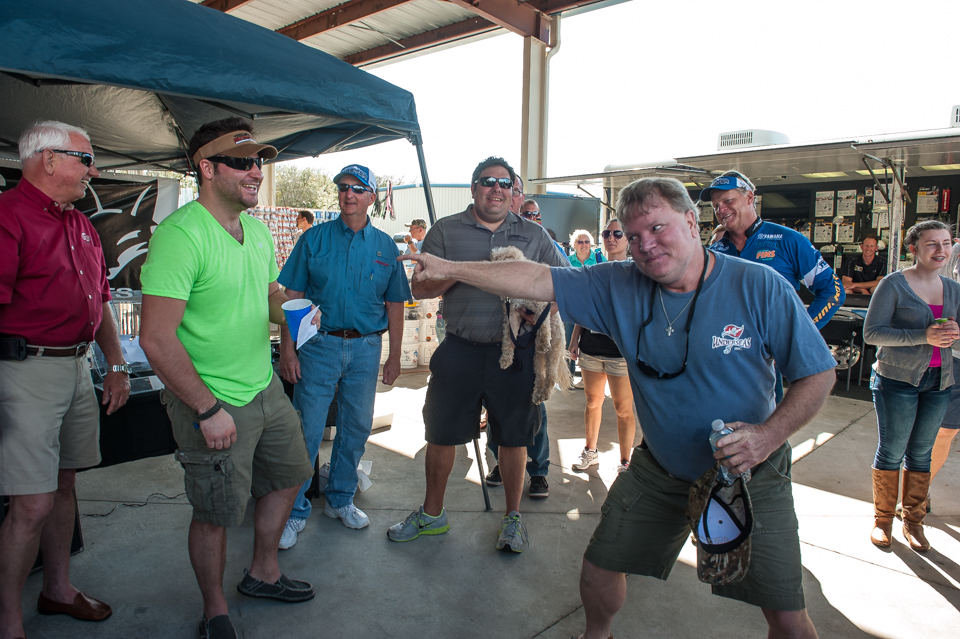 "You won that motor for me! " yells Christopher Kadyk
Let the celebration begin!
The Winners and Sponsors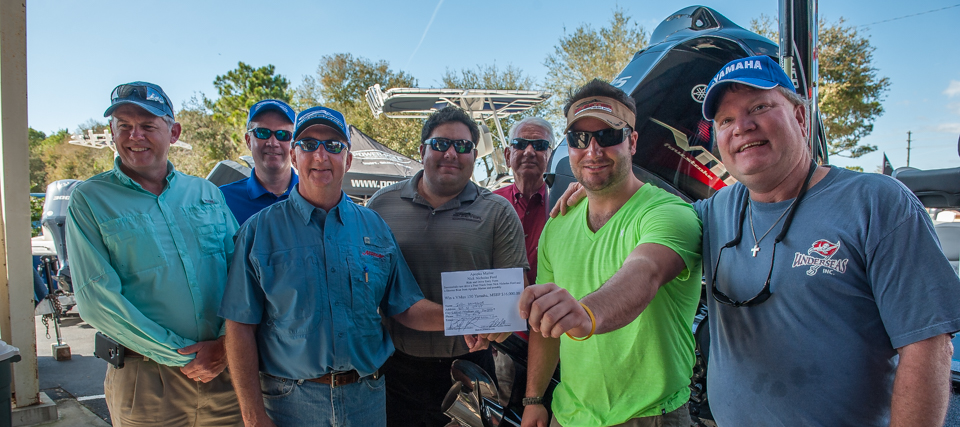 Dan Osborne (Robalo) Shane Bryant (Nick Nicholas Ford) Joe Bega (Apopka Marine) Joe Mecurio (Skeeter) Hugh Marion (G3) Joel Holweger (Winner), Christopher Kadyk (Real Winner)
Parker Allman Wins Casting Contest
Parker Allman won the Kids Casting Contest taking away $250 Merchandise Certificate and the bragging rights. Shown here with Captain and TV Host Blair Wiggins.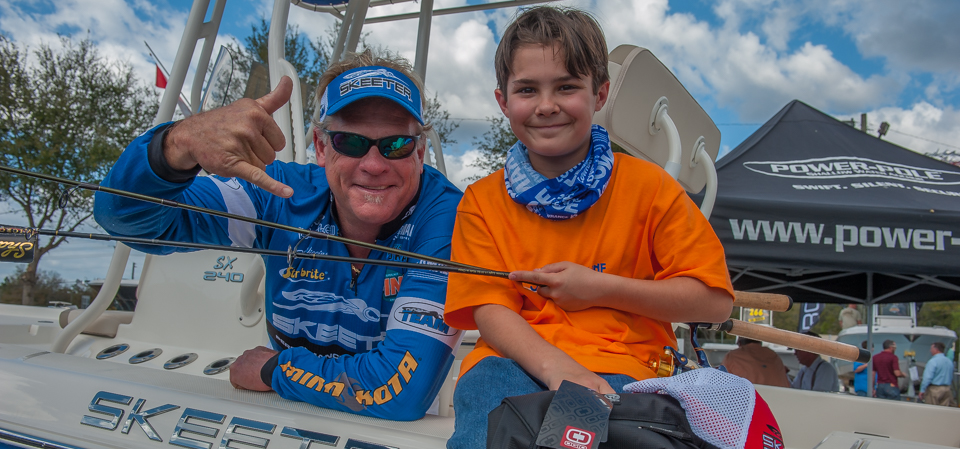 Fun was had by all.
We served five hundred fish dinners to over 1000 quests. 200 people left with door prizes. The fine folks at Nick Nicholas Ford showed 10 new Ford trucks to over 200 test drives.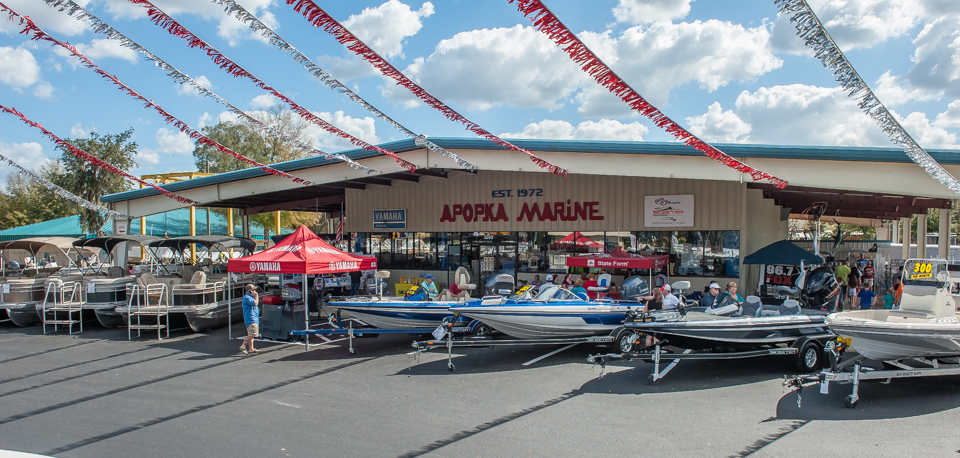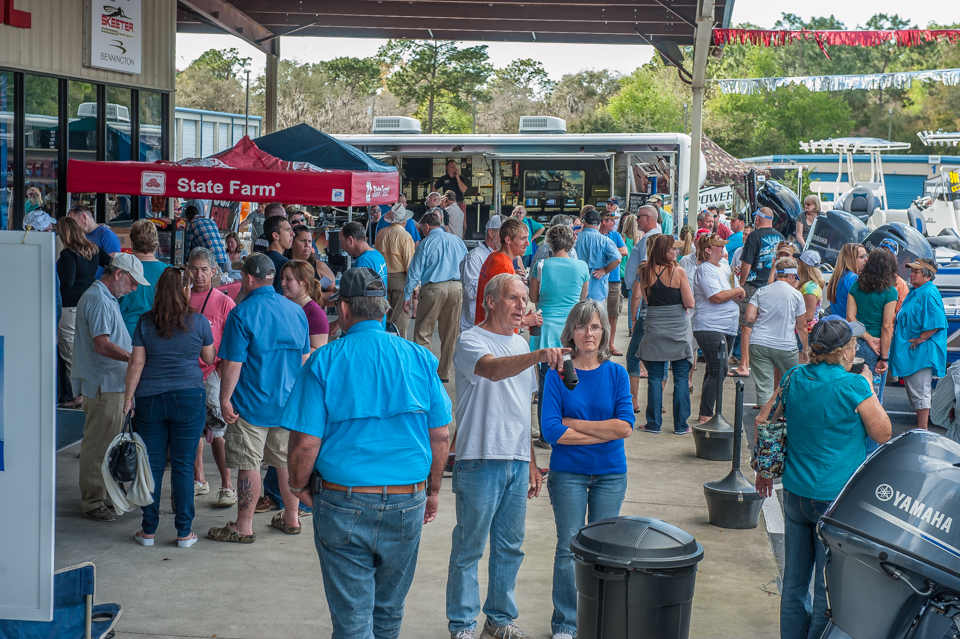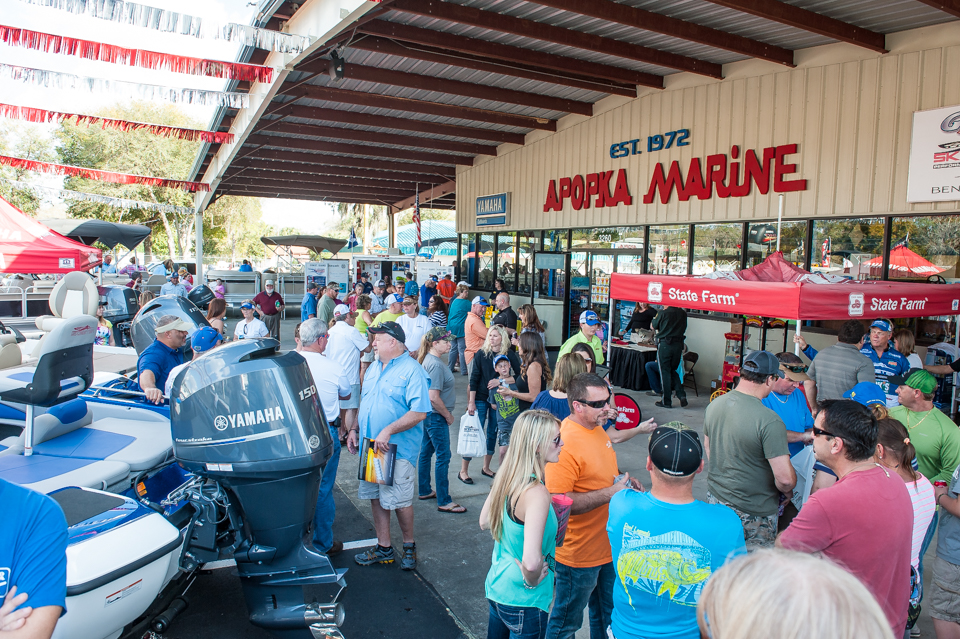 Special Thanks to all our friends and supporters that helped.
G3 Boats
Robalo Boats
Skeeter Boats
Hummin Bird
Minnkota
Power Pole
Power Squadron
Sea Tow
Yamaha
Nick Nicholas Ford
Blair Wiggins
Bennington Marine
Jimmy Ricks (Skeeter Bites Cooking Team)
Capt Joe Herbert (Tackle Store)
Capt Chris Wilkins
Molly Maguire (Girl Scouts of America)
Snorkle with Manatees Tours
Big Dawg Baits